Celebrate National Library Week at Wright Library 
Wright Memorial Public Library joins libraries across the nation in celebrating the many ways libraries build strong communities by providing critical resources, programs and expertise.
Oakwood Mayor William Duncan proclaimed the week of April 7-13 National Library Week, issuing a proclamation honoring Wright Library's contributions to the community.
"Wright Memorial Library provides diverse opportunities for lifelong learning, enjoyment, education and personal growth … and is a community focal point that encourages learning and intellectual growth from the earliest ages," Duncan said in the proclamation, which can be read in full on wrightlibrary.org.
Duncan encouraged all residents to visit Wright Library during National Library Week and explore what's new at the library.
The annual celebration highlights the valuable role libraries, librarians and library workers play in transforming lives and communities. Libraries are at the heart of their cities, towns, schools and campuses.
Wright Library helps lead the community by providing early literacy story times and programs, technology training for adults, programs for teens and elementary students, and a carefully curated print and digital collection of books and other materials. Its summer reading program keeps hundreds of students reading and learning all summer, helping curb the loss of learning during the summer school break.
"Recently, Gov. Mike DeWine stated that libraries "are the cornerstone of Ohio's communities because they play an important role in workforce development and early literacy initiatives,'" said Board President Joe Fulford. "You'll not be surprised to hear that Wright Library is doing its part. Wright Library is ranked 17th out of more than 1400 small libraries nationally, or the top 1%, and just celebrated its 80th year of continued excellence."
Wright Library is celebrating National Library Week in a variety of ways:
The Library's book bike, known as The Book Peddler, will take its first ride around the community this year on Wednesday, April 10. The community can visit the bike at Ashley's Pastries at 8:30 a.m. April 10. The Library will also open scheduling for the bike's spring and summer schedule. To schedule the bike at your event, email Brian Potts at potts@wrightlibrary.org.
Library staff and volunteers will be celebrated Tuesday, April 9. View stories of librarians from years' past on the Library's Facebook page that day!
Families can celebrate their favorite picture books Saturday April 13 at the National Library Week Family Program from 2 p.m. – 4 p.m. Preschoolers through 3rd graders can create their own book, make crafts and play games, listen to stories read by librarians Miss Karen and Mrs. Bengson, and eat a literary-themed snack.First sponsored in 1958, National Library Week is a national observance sponsored by the American Library Association (ALA) and libraries across the country each April. Enjoy a visit with special guests authors Carrie and Katie Weyler as they read from their Charlie Tractor books!
"The Board wishes to thank Oakwood and all its patrons for their continued support, and invites them to celebrate National Library Week with us by stopping by for a visit," Fulford said.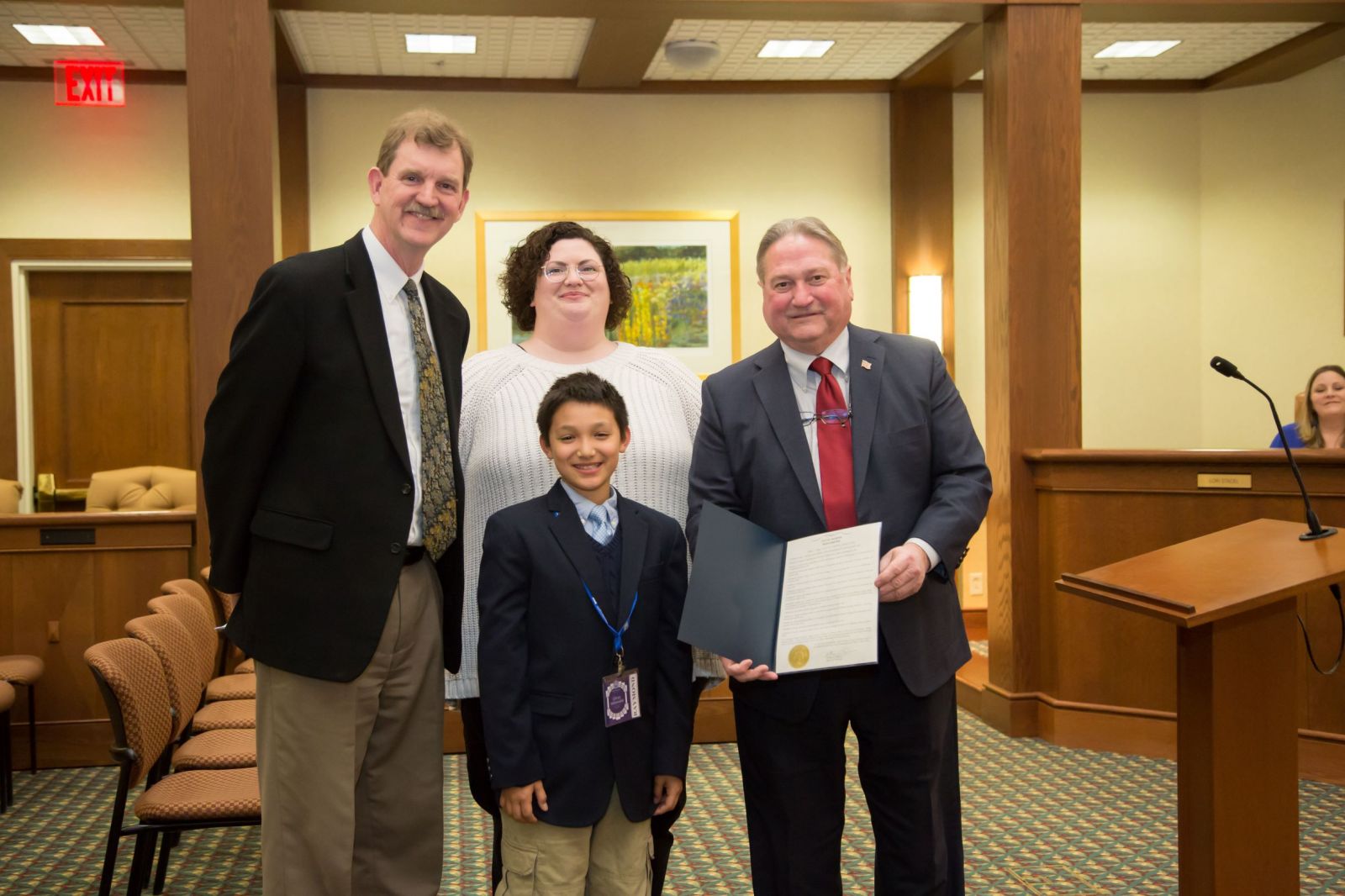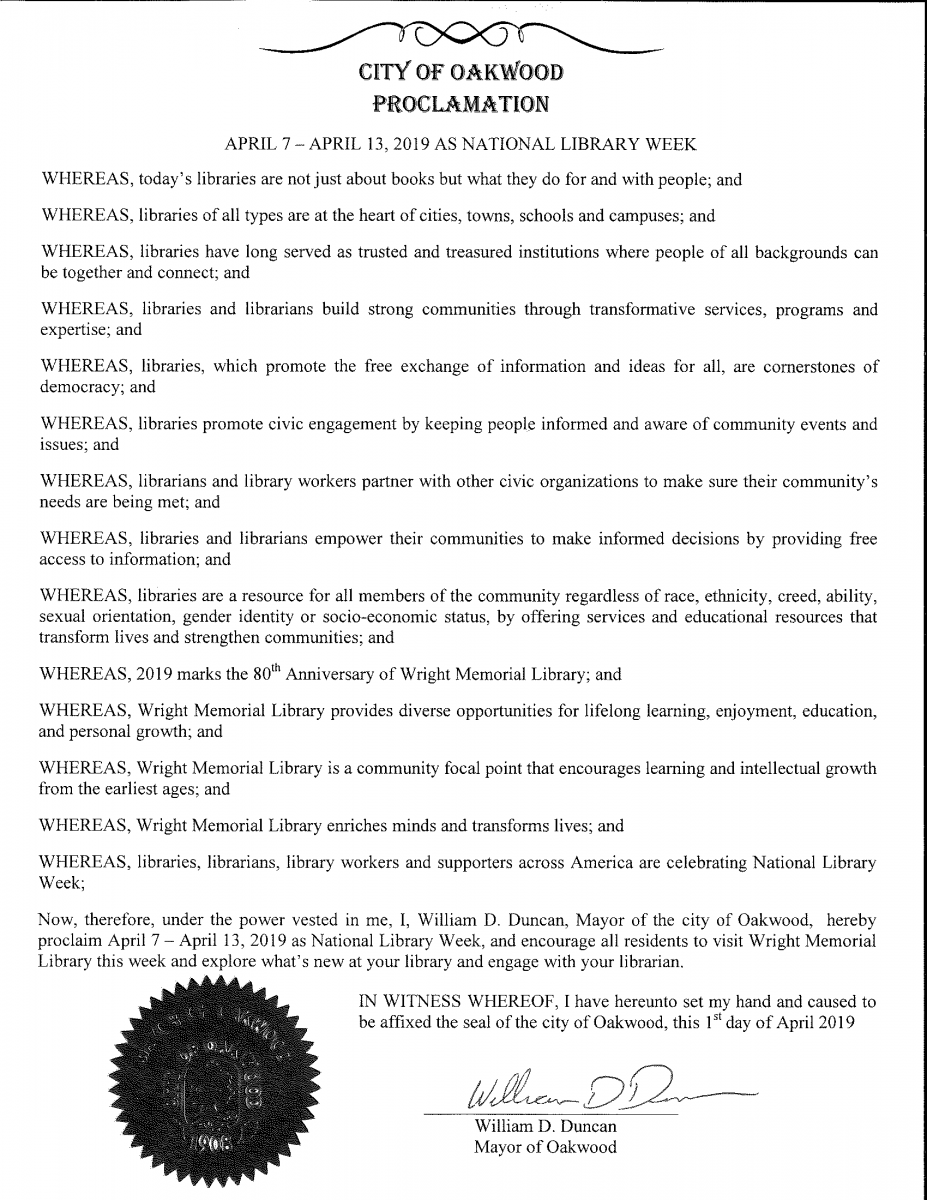 ABOVE: 
Oakwood Mayor William Duncan presented a proclamation declaring April 7-13 National Library Week and recognizing Wright Library as a community focal point that encourages learning and intellectual growth from the earliest ages. Wright Memorial Public Library Board President Joe Fulford, Wright Library Youth Services Coordinator Jacqui Taylor and Library Ambassador Raymond Pelligra accepted the proclamation at the city council meeting April 1. The theme of National Library Week is Libraries = Strong Communities.