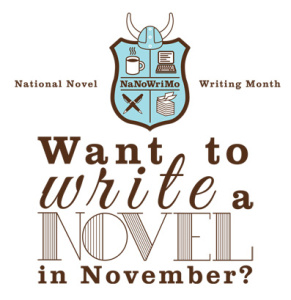 National Novel Writing Month (NaNoWriMo) is a fun, seat-of-your-pants approach to creative writing. 
On November 1, participants begin working towards the goal of writing a 50,000-word novel by 11:59PM on November 30. Valuing enthusiasm, determination, and a deadline, NaNoWriMo is for
anyone
who has ever thought about writing a novel.
If you are working on your novel in November then "Come Write In." Visit Wright Library from 6:30-8:30pm on Fridays in November to join other wrimos for fun, encouragement, and some serious writing. November 3, 10, and 17 we'll be meeting in the South Reading Room, where you can enjoy coffee, water, a variety of snacks, and word wars from 7-7:30pm. The Winner takes home a prize!
Friday November 24 is crunch time. Stop by our conference room for snacks and drinks and quiet writing. 
For more details about NaNoWriMo see their website -
NaNoWriMo.org