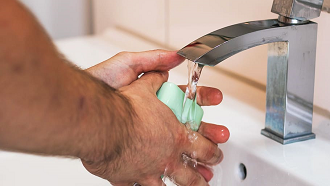 Actions you can take
Wash your hands often with soap and water, 20 seconds or more.
Avoid touching your face.
Avoid contact with people who are sick.
Stay home if you are sick; avoid in-person contact with others.
Cover your mouth & nose with tissue or sleeve when coughing or sneezing.
Disinfect high-touch surfaces often.
Avoid gatherings.
Reconsider travel plans.
If others in your home are older or in compromised health, take precautions to protect them from germs you may bring into the home.
Resources for Food, Transportation, & Medicine availability | Unemployment | Find Jobs | Economic Impact Payment | Small Business Help | Mental Health Support | Public Wifi Locations | Utilities   here >>
updated April 28, 2021
Current recommendations for fully vaccinated people 
Vaccine info for Ohio      
Ohio's centralized scheduling website is now available at gettheshot.coronavirus.ohio.gov
Visit the Ohio Department of Health's vaccine page to find providers by county or zipcode and access links to registration pages. https://vaccine.coronavirus.ohio.gov/
Free Bus Rides to Vaccination Appointments  
Regular routes, simply show proof of an appointment
Not on a bus route, call (937) 425-8300, option #6 to schedule a trip.
COVID Home Test Kits
Wright Library is distributing Abbott BinaxNOW COVID-19 Ag Card Home Test Kits as part of the Ohio Department of Health's plan to expand availability of testing throughout the state. 
Supply Status: We currently DO have tests available.
Local Information | Oakwood, Dayton, Montgomery County
Statewide Information | Ohio
1-833-4-ASK-ODH 
Checklists: Home, Business, Gatherings, Disinfecting, and more - from Ohio Department of Health 
Staying Connected Check-in Service - a free, daily check-in by phone for Ohioans age 60 or older. This service can also connect you with aging network information and support.
National and Global Information
Data: IHME Projections - Institute for Health Metrics and Evaluation, an independent population health research center at UW Medicine, part of the University of Washington
Mental Health Information 
1-877-275-6364 - OhioMHAS Help Line  | Ohio Crisis Text Line: Text keyword "4HOPE" to 741 741
Mental Health considerations - suggestions specific to general population, health care workers, leaders and managers, caretakers, and people in isolation, from World Health Organization