In 2018, the library completed a historic restoration and renovation project of the 1939 portion of the building, funded almost entirely with private donations. The project restored the historic reading rooms, added meeting space that allows for technology classes, reduced operating costs with energy-efficient lighting, and improved usability of the space. In all, about 3,500 square feet, or about 17% of the building was renovated.
Wright Library's Facility Needs
​While the historic part of the building received a much-needed facelift in 2018 and makes a great first impression when coming through the front door, infrastructure issues for the remainder of the building still need to be addressed and have grown with time. Among these are outdated and inefficient HVAC units and climate control, an aging roof and elevator, and drainage and moisture issues. Additionally, inefficient lighting and carpet that is worn out from nearly 30 years of use need replaced. Total cost of infrastructure repairs and replacements are estimated to cost in excess of $1 million.
HVAC System Replacement – Many components are obsolete or in "fair" condition and will need to be replaced in the next three years; airflow should be updated for better comfort and to meet today's standards.
Elevator modernization – Current elevator is nearing obsolescence, meaning replacement parts will become unavailable. The elevator will need to be modernized in the next one to three years.
Roof replacement – The library's two flat roofs are nearing end of lifespan, with increasing number of leaks and higher repair costs annually. Roof replacement is recommended within the next 4 years.
Drainage issues – Moisture issues in the lower level require running three dehumidifiers 24/7, cause an unpleasant damp odor, and prevent using the space for books.
Carpet replacement – Carpet throughout most of the upper level is nearly thirty years old and badly needs replaced. In addition to the cost of the carpet, this will require moving all of the library's books and shelving.
Modernized lighting – Existing lighting is inefficient and many fixtures are cracked and need to be updated with LED lighting throughout the building.
Exterior repairs – The building is in need of cleaning, tuckpointing and sealing to maintain the integrity of the brick exterior.
Addressing these infrastructure issues will necessitate bringing the building up to today's building codes, opening up walls and ceilings, moving bookshelves, and addressing unexpected issues that inevitably occur when repairing old buildings.

To be efficient with limited resources, in early 2019, the library engaged an architect design team to look into ways to pair these needed repairs and replacements with modest updates to better meet the needs of today's library users – while working within the existing building footprint. The architect was tasked with creating a facility plan that could be accomplished in stages, and in addition to resolving the infrastructure needs, would include:
Updating Children and Teen areas

For children, lower, kid-friendly shelves and more opportunities for educational play.
For teens, a dedicated computer area separate from adult computing areas and comfortable places to study with easy power access.
For adults, effective noise control between active kid and teen areas, flexible meeting spaces, and creative and business tools.

Updating spaces for technology and workforce needs

Effective noise control between adult spaces and kid and teen areas
Flexible meeting spaces
Creative and business tools

Improving accessibility

ADA and family-friendly restrooms
Updated parking and walkways
Re-opening the back entrance

Improving efficiency and reducing operating costs

Better security
Energy-efficient lighting
Other energy efficiencies

The architect team reviewed the 2016 community research and worked closely with library staff in a series of work sessions to gather more input about the building needs and patron expectations that are not being currently met. Initial design concepts were presented to the Board of Trustees at a public meeting in late summer. Trustees and staff provided feedback on options presented, and community focus groups were held in November, 2019. We safeguard our legacy and want to ensure that we can continue to offer community-tailored and affordable library services in Oakwood for generations to come.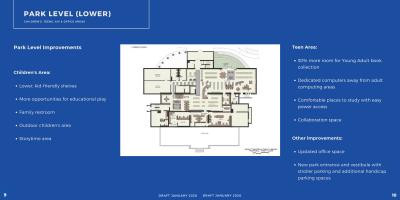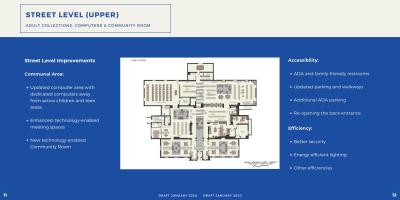 A Community Conversation
Wright Library is Oakwood's library, and we look forward to continued engagement with the community in the facility planning process. Updates will be posted to this webpage and will include ways to engage. If you would like more information or have questions or comments, please contact Kristi Hale, Director, at hale@wrightlibrary.org.
We look forward to working together throughout the process.


Return to our 2020 Vision page