updated November 3, 2021
Food, Transportation, Medicine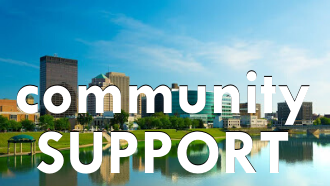 Staying Connected Check-in Service
The Ohio Department of Aging is offering a FREE, daily check-in by phone for Ohioans age 60 or older. This service can also connect you with aging network information and support.
Are/were you out of work because of Coronavirus?
Unemployment benefits are taxable. The IRS provides information on reporting your unemployment income on your federal tax return.
Mental health concerns
If you, your student, or a peer is experiencing a more extensive or crisis-related concern (such as severe depression, self-harm, harm to others, or suicidal ideation), please immediately contact one of the following resources:
Crisis Care (937) 224-4646
Crisis Text Line-Text CONNECT to 741741
National Suicide Prevention Hotline: 1-800-273-TALK
Drug and Poison Control: 1-800-222-1222
1-800-SUICIDE (784-2433)
Dayton Children's Crisis Center (for students 17 or younger)

Monday through Friday 8:00 am - midnight
Saturday and Sunday 2:00 pm - midnight
Visit the ER during other times
Miami Valley Hospital or Kettering Medical Center ER - if 18 or older

Miami Valley Warmline: 937-528-7777 (Non-emergency support open Monday-Friday from 11 a.m.-7 p.m.)
Small Business Help
Economic Injury Disaster Loan Assistance
The SBA will continue to support small businesses through this difficult time, and urges Dayton area businesses to visit www.sba.gov/coronavirus and follow @SBA_Columbus on Twitter or sign up for our newsletter for more updates.
Utilities
Ohio Consumers' Council - read the Winter Reconnect Order, which begins October 5, 2020.