Wright Memorial Public Library debuts virtual lineup for fall progra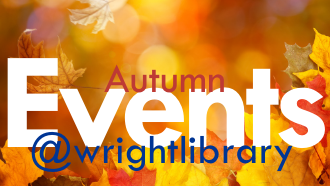 ms
Wright Memorial Public Library will present its regular and special events online this fall. 
A new calendar of events includes programs for all ages, with some streamed on Facebook and others available through Zoom. Register for Zoom-based programs online at wrightlibrary.org/calendar or by calling the library at 937 294-7171.
New programs include art appreciation, a craft program, and a weekly show & tell for elementary students;  a new group for teens focused on unity and service, and an informal discussion group for parents to talk about education. 
For adults, the Far Hills Speaker Series, which focuses on local history, returns monthly as does a book club, poetry writing group, writing technique series, the Let's Talk series of discussion on race, and more. 
A full calendar can be found at wrightlibrary.org/calendar.
September programs will include:
Storytimes for babies through age five will be broadcast weekly on the library's Facebook page on Mondays, Tuesdays, and Friday at 10:30 a.m. Visit wrightlibrary.org to find the right storytime for your family. 
Art Appreciation: Come encounter great works of art with Ms. Jacqui at this conversational program designed for elementary-aged kids to study and discuss a piece of art and its artist. Begins Sept. 9 at 4 p.m.- 4:30 p.m. on Zoom. Register
Crafty Kids:  Pick up your craft supplies from the library each week while supplies last, then follow along with Mrs. Bengson on Facebook Live! Crafts will be appropriate for kids about 5-10 years old. Every craft will feature a companion book. Thursdays at 4 p.m. on Facebook Live.
Scholastic Storytime:  At this entertaining and intellectual storytime, Ms. Jacqui will cover topics such as American inventors, animal hibernation and migration, and forms of poetry.  It's a potpourri of learning!  For kindergarten-2nd grade.. 2 p.m. on Facebook Live.
Kids Writing Club: Elementary-age writers are invited to share their works, gain inspiration, and learn tips and tricks for skilled writing at this weekly program with Miss Jacqui.  Illustrators welcome, too!  Every genre welcome.  Register
Tween Hangout: For grades 4th-7th grade. Join other tweens and Mrs. Bengson on Zoom to play games, talk, and make a few crafts. Tuesdays at 4 p.m. Register
Parents Talk Education: An informal opportunity to discuss educational and parenting issues with other local parents. Second Thursday of the month at 7 p.m. beginning Sept. 10 on Zoom. Register
Write@Wright series: Using History to Enhance Your Writing-in Any Genre with author Sharon Short. Sept. 19 at 2 p.m. on Zoom. Other programs in this series are scheduled for the fall. Register
Teens Building Solidarity for Change: This platform for students in grades 7-12th grades will focus on understanding, unity, and trust through authentic dialogue and service learning. This is a cooperative effort between Dayton Early College Academy (DECA) and Wright Memorial Public Library. The first meeting is Thursday, September 17 from 7-8pm on Zoom and will  continue to meet on the first and third Thursdays of each month. Register 
Talk Saves Lives: An Introduction to Suicide Prevention is a community-based presentation that covers the general scope of suicide, the research on prevention, and what people can do to fight suicide. Sept. 24 at 7 p.m. via Zoom. Register
Wild Hearts African Farm: Meet and learn about five of Wild Hearts African Farm's beloved residents via Zoom on Saturday, September 19 from 10:30-11:30 am. Join Ms. Karen after the presentation to create a craft. Pick up craft supplies beginning Monday, Sept. 14 at the Library. For children ages 3-12 and their families. 10:30 a.m. Sept. 19. Register
The 75th Anniversary of the Atomic Bomb (Far Hills Speaker Series with the Oakwood Historical Society): Presenter Bob Bowman will share how the Manhattan Engineer District designed, developed, and produced these devices from theoretical concepts for the fission chain reaction in under three years. Sept 20 2 p.m. on Zoom. Register
See all September programs at wrightlibrary.org/calendar.