| Label | Information |
| --- | --- |
| Dates & times | |
| Category | Local Interest |
| Age Groups | Adult, Teen |
This event will be presented as an online Zoom webinar. Please register to attend. If you have not used Zoom before, you will be prompted to install the Zoom client.  Additional help is available here.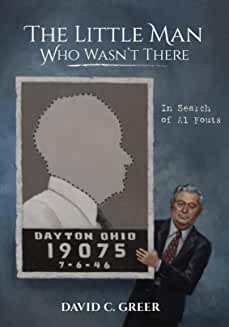 REGISTER
In a Dayton Daily News article Al Fouts was described as "a little man who cast a deep shadow in downtown Dayton. He was the size of a jockey, rarely seen without a necktie or a frown, a fixture in the rough workingman's taverns on West Third Street. This glum leprechaun on a barstool was an inviting target for a cutting remark, but nobody was that stupid. Everyone knew Fouts was pure underworld."
The discovery of a an unusual thank you letter written by Dayton lawyer John M. Eikenbary to Fouts for a Christmas card Fouts sent became the seed that grew into The Little Man Who Wasn't There: In Search of Al Fouts, David Greer's third book. Fouts had been a crook since the age of 18, when he was arrested for burglary. He graduated to safe-cracking and manslaughter and was busted from California to Georgia. No sooner was he released from jail for one scheme than he hatched another. Well after prohibition ended, Fouts sold illegal, untaxed liquor from the rooming house he owned. It was so popular that even the bar association catered its picnics with his whiskey. The Little Man Who Wasn't There explores the impact of a modest, but noteworthy Al Fouts' career on Dayton's more colorful history.
David Greer is a Dayton Attorney, Oakwood resident, and author of three books dealing with the legal system and some of its more notorious criminals: Sluff of History's Boot Soles: An Anecdotal History of Dayton's Bench and Bar, God is Merciful: The Colorful Career of John E. Egan and his latest book, The Little Man Who Wasn't There: in Search of Al Fouts.
Join the Oakwood Historical Society and Wright Memorial Public Library for entertainment and education.  Whether you are a history buff or just interested in learning more about the place you live, the Far Hills Speaker Series has something new for everyone.