| Label | Information |
| --- | --- |
| Dates & times | |
| Category | Local Interest |
| Age Groups | Adult, Teen |
This event will be presented as an online Zoom webinar. Please register to attend. If you have not used Zoom before, you will be prompted to install the Zoom client.  Additional help is available here.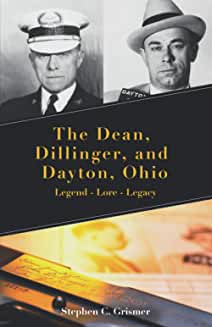 REGISTER
Two larger-than-life figures: John Dillinger, who would later be named the nation's first "Public Enemy No. 1," and Police Chief Rudy Wurstner, who would become the nation's "Dean of Police Chiefs," are connected with Dayton. While Dillinger was in and out of Dayton over a 5-month period in 1933, Chief Wurstner served Dayton for 50 years. Most histories address Dillinger's time in Dayton as time spent with his local girlfriend, Mary Jenkins Longnaker. Mary was not a gangster moll and Dillinger's coming to Dayton happened before the famed Allen County jail escape. The local story is more involved and is a mix of facts and folklore.
Author Steve Grismer will introduce other gangsters and mobsters with Greater Dayton connections – such as local crime figure Al Fouts, the more infamous Chicago mobster George 'Bugs' Moran, gangster Al Karpis, and others. The many figures and events from the Gem City's past provide an astonishing untold legacy.
Stephen Grismer is a retired Dayton Police Sergeant with over 25 years in policing.  Steve now serves as a Trustee for the Dayton Police History Foundation, an organization dedicated to the preservation of Dayton Police history.  A graduate of the University of Dayton with a degree in Communications and a minor in Criminal Justice, Steve is also a state-certified police instructor and lectures at the Osher Lifelong Learning Institute at the University of Dayton.  Steve is the author of the book The Dean, Dillinger and Dayton Ohio- Legend- Lore- Legacy and played a significant role in establishing several exhibits at Dayton History including "Patrolling the Streets in Dayton."
Join the Oakwood Historical Society and Wright Memorial Public Library for entertainment and education.  Whether you are a history buff or just interested in learning more about the place you live, the Far Hills Speaker Series has something new for everyone.