| Label | Information |
| --- | --- |
| Start & End Times | - |
| Category | Book Club |
| Age Groups | Adult, Teen |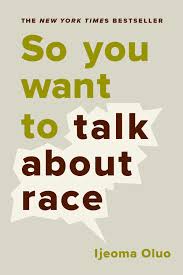 This event has already taken place. See other upcoming conversations.

As part of our LET'S TALK series, we'll be discussing the book So You Want to Talk About Race by Ijeoma Oluo. Talking about race can feel uncomfortable, but not talking about it allows injustice to continue. We will be utilizing the conversation cafe method and agreements. All participants agree to be open-minded, accepting, curious, discovery-oriented, sincere, and brief.  Registration Requested.

In So You Want to Talk About Race, Oluo offers a contemporary, accessible take on the racial landscape in America, addressing head-on such issues as privilege, police brutality, intersectionality, micro-aggressions, the Black Lives Matter movement, and the "N" word. Perfectly positioned to bridge the gap between people of color and white Americans struggling with race complexities, Oluo answers the questions readers don't dare ask, and explains the concepts that continue to elude everyday Americans.

Reserve the book

View Video of Ijeoma Oluo discussing the book

Ijeoma Oluo is a writer and speaker whose work on race has been featured in The Guardian, New York magazine, xoJane, Jezebel, and more. She is also an editor-at-large at The Establishment, and Seattle magazine named her "one of the most influential people" in Seattle. 
The New York Times: "Oluo takes on the thorniest questions surrounding race, from police brutality to who can use the "N" word. One chapter even has this intriguing heading: "I Just Got Called a Racist, What Do I Do Now?"

Publishers Weekly: [Oluo is] insightful and trenchant but not preachy, and her advice is valid. For some it may be eye-opening. It's a topical book in a time when racial tensions are on the rise. 

Salon.com: Oluo has written a generous and empathetic yet usefully blunt guide to confronting and interrogating the many ways race informs prejudices that are reinforced by systems of power in America. Accessible and approachable in tone, "So You Want to Talk About Race" is aimed squarely at those who actually do.