| Label | Information |
| --- | --- |
| Dates & times | |
| Category | Local Interest |
| Age Groups | Adult |
Sunday, October 16, 2022
To attend virtually: registration is required.
To attend in person: registration is recommended.
2:00 PM | Community Room & Zoom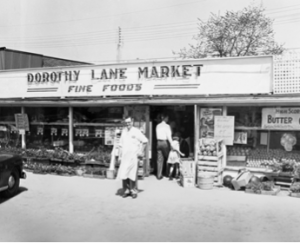 About the Program
As part of the 150th anniversary, the lecture series looks at one of the longest operating businesses in Oakwood, its past and future.  The Dorothy Lane Market (DLM) story starts with its founding in 1948 as a fruit stand on the corner of Dorothy Lane and Far Hills Avenue.  Presenter Jerry Post will detail the early history of DLM and talk about pivotal moments DLM shares with Oakwood such as the blizzard of 1950 when founder Calvin D. Mayne woke very early to hike through the snow and open the store on time. Or the fire in 1951 where everyone came together to repair and reopen the store after it suffered damage from a nearby fire. Norman Mayne who was 7 at the time, remembers holding a paint brush and helping repair and reopen the Oakwood store.  DLM is integral to the Oakwood community and takes great pride in being a long-term partner in Oakwood. In 1953 DLM moved from the original fruit stand to just down the street where the Oakwood location continues to operate. Today, DLM has grown to three stores in the Dayton area with one on the horizon in Mason.  What DLM is doing now and plans to do in the future to be relevant to the community as a locally owned and operated business with a special connection to the local communities is a story in itself.   Hear what is in store of DLM.
The Far Hills Speaker Series is presented through a partnership between the Oakwood Historical Society and Wright Memorial Public Library
---
About the Presenter
Jerry Post started at DLM as a carry out in 1991. In his current role as the DLM Oakwood Store Director Jerry oversees the day-to-day operations at the Oakwood location. Throughout his Dorothy Lane career, Jerry has demonstrated his grocery store business versatility.  A former associate of the Front End, Produce and Meat Departments, as well as a manager of Seafood, Beer and Wine and Second Shift Store. Jerry has spent time working at all three of the DLM locations.  He brings his passion for great real food and wine to the forefront whenever the situation allows.  He understands the importance of educating customers and associates about the wonderful products and functions of Dorothy Lane Market.  And with his friendly disposition, greeting customers with a big smile, Jerry makes both the Oakwood community and the store associates at this location feel at home.  Jerry is the proud father of three and a fan of almost every sport.