| Label | Information |
| --- | --- |
| Dates & times | |
| Category | Local Interest |
| Age Groups | Adult |
Lectures will be presented in the Oakwood High School Auditorium.  Should there concerns due to the Coronavirus pandemic, the Fall FHSS will be presented virtually.
History, Mystery, Mayhem & Murder
Dayton's rich history is full of tales, some of which are so surprising that you will be on the edge of your seat. Tales of mayhem are told in this chilling presentation of murders, assaults, revenge, negligence, and hopelessness that took place in Dayton's past. The lecture includes the real-life history, mystery, mayhem and murder stories of the likes of Bessie Little. Charles Stimmel, Joseph Shide, Maurice Dejadins and Nelson Driggs. Graphic details are given and may not be appropriate for all audiences.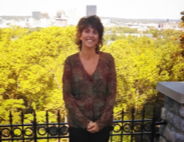 About the Presenter: Angie Hoschouer
Angie Hoschouer is the Manager of Development and Marketing at Woodland Cemetery, Arboretum and Foundation. Founded in 1841, Woodland Cemetery is one of the nation's five oldest rural garden cemeteries.  Hoschouer was a seven-year volunteer at Woodland Cemetery before becoming an employee. She has a passion for Dayton's history and is involved with several community organizations including the Dayton Region's Walk of Fame and University of Dayton Osher's Lifelong Learning Institute. She is the current president of the Randolph Twp. Historical Society.
---
Join the Oakwood Historical Society and Wright Memorial Public Library for entertainment and education. Whether you are a history lover or just interested in learning more about the place you live, the Far Hills Speaker Series has something new for everyone.