| Label | Information |
| --- | --- |
| Dates & times | |
| Category | Arts & Writing, Living Well, Local Interest |
| Age Groups | All ages/special, Adult, Children, Teen |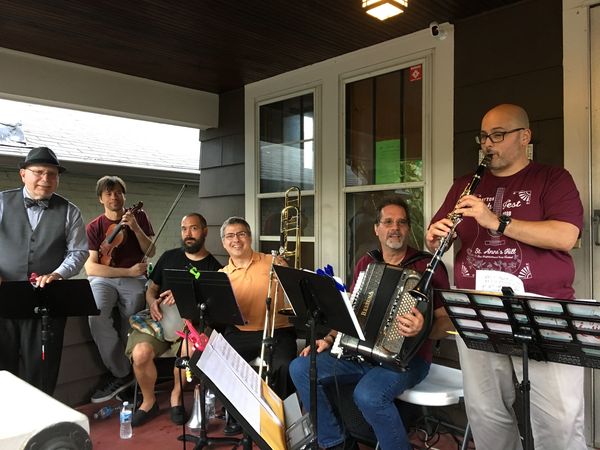 About the event
Bring a blanket and the kids for this outdoor concert in Katharine Wright Park outside the library's back entrance!
If the weather is uncooperative, the concert will be held indoors in the new Community Room on the library's Main Level (upper floor).
About the musicians
The Miami Valley Klezmer Ensemble was formed in 2018 and quickly started working at music festivals, holiday celebrations, luncheons, cultural arts festivals, Jewish Festivals, libraries, concert series', and more.  We bring fantastic Jewish Wedding Dance music wherever we are heard! 
Members include Rich Begel (trombone), who teaches at Sinclair Community College, Earlham College, plays with the Klaberheads, Greater Dayton Brass Ensemble, and the Dayton Philharmonic; Bill Burns (clarinet), who teaches general music and is a Jazz Ensemble/Combo director in Centerville, adjunct professor at Sinclair Community College, as well as performing with the Jack Garrett Band, This Side Up, Dayton Jazz Orchestra, Bright Moments, Dayton Phil, and more; Dave Diamond (trumpet), who is the office manager at Agraria Center for Regenerative Practice, a member of the Air National Guard Band of the South, a frequent substitute with the Dayton Philharmonic, Springfield Symphony, and Southwest Ohio Philharmonic, as well as being a prior member of the Band of Flight at Wright Patterson AFB; Steve Makofka (accordion), who is a family life coach and author on the subject, accordionist with Sons of Blarney, Tim Gebard and the Hitmen, and has a solo album called "Back to Normal" and a children's album called "Bring the Kids;" and Erich Reith (percussion), who is a preparator at the Dayton Art Institute and performs with Puzzle of Light and Solistic.
Discover more concerts at Wright Library on the second Sunday of each month at 2 PM. The Music Series is  made possible by a grant from the Wright Memorial Public Library Foundation