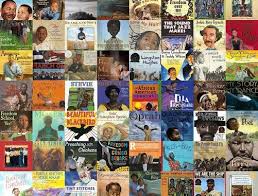 Wright Library invites writers, students, and community members to experience the exhibit
TELLING A PEOPLE'S STORY
and write a creative response to the African American history, culture, art, and literature it depicts.  Visit the 12 panel exhibit at Wright Library any time during open hours between August 18 and September 20. Write a poem, essay, story or other written work in response. Focus on a particular panel or illustration or respond to the exhibit as a whole. Share your work at a community reading at 7:00pm Friday September 27 at Wright Library. Join us for this opportunity to celebrate the important contributions of African American authors and artists!  
Telling A People's Story
 is the first major museum exhibition devoted to the art found within the pages of African-American children's picture books. The presentation of this genre offers a lens into the cultural, historical, and social makeup of African-American cultural identity, while also shedding light on the long neglected world of African-American authors and illustrators in the pantheon of children's literature. This traveling exhibit is on loan from the Miami University Art Museum.