| Label | Information |
| --- | --- |
| Dates & times | |
| Category | Arts & Writing |
| Age Groups | Adult, Teen |
Sunday March 5, 2023
2:00 PM -3:30 PM | Virtual Program
Register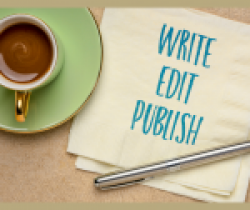 Join author, editor, and publisher C.D. Tavenor for a workshop on publishing your own work. Authors have so many options these days. There are different approaches to publishing and many reasons self-publishing might be right for you. Learn how to get started, what constitutes best practices for self-publishing, and how to avoid common pitfalls. Tavenor will share his own experience with success and failure and answer your questions.
C.D. (Chris) Tavenor is an independent science fiction & fantasy author based out of Columbus, Ohio. His first novel, First of Their Kind, released in 2019, followed by its sequels, Their Greatest Game and Their Pieces Were Stars. In addition to creating his own works, Tavenor is a freelance editor, supporting other authors in their writing and publishing journeys.  His most recent collaborative project includes a climate fiction anthology titled The World's Revolution, developed with fifteen other authors. He is currently writing a five book climate fantasy series tentatively titled Secrets of Endari. Learn more about Tavenor at www.twodoctorsmedia.com.
This workshop is part of the Write@Wright Series sponsored by the Wright Library Foundation.