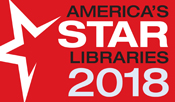 Wright Library earns Four-Star Library designation from Library Journal
 

Wright Memorial Public Library earned four stars in Library Journal's 2018 Star Libraries report released this month.
 
This is the first four-star rating for Wright Library, which had earned three stars in 2017, 2010, 2009, 2008.
 
Wright Library ranked 17th overall, or in the top 1 percent, of the 1,445 libraries evaluated in its expenditure category ($1 million – $4.9 million).
 
"We are very, very proud to receive the Four Star designation, placing us alongside the very top libraries nationwide," said Kristi Hale, Wright Library Director. "It affirms that we are tremendously valued by the Oakwood community, where education is a core value, and that we are providing the best possible materials, programs, and services for their lifelong learning and enjoyment." 
 
The Library Journal index, based on 2016 statistics, measures how much the local community uses key services of their public library compared to peer libraries. The four key services measured are circulation, visits, program attendance, and public internet use.
 
Wright Library improved in each measure, ranking:
 
4th in Circulation per Capita (8th in 2017)
19th in eCirculation per Capita (20th in 2017)
32nd in Visits per Capita (37th in 2017)
28th in Program Attendance per Capita (53rd in 2017)
123rd in Public Internet Use (176th in 2017)
 
Only 257 U.S. libraries out of 7,361 indexed earned the Star Library distinction. Ohio ranks second in the nation for the most Star libraries – second only to New York.

 
About Wright Memorial Public Library
Wright Memorial Public Library is a community focal point that helps fulfill patron needs for information and entertainment materials; meets the learning needs of patrons on topics related to work, school, and personal life; and encourages learning and intellectual growth from the earliest ages. The Library provides high levels of efficient, friendly, personal service and fosters an atmosphere of intellectual liberty in the American tradition of free ideas. Wright Memorial Public Library is located at 1776 Far Hills Avenue in the city of Oakwood. The Library's hours of operation are Monday-Friday 10 a.m. – 9 p.m., Saturday 10 a.m. – 5 p.m. and Sunday 1 p.m. – 5 p.m. The Library offers a number of services to the community, including story hours for children; special events for teens, families, children, and adults; book discussion groups; meeting rooms for public use; and a website with online learning resources and downloadable digital books, magazines, music and videos.
###
If you would like more information please contact Tracy Staley or Kate Chesar at 937-294-7171 
or email staley@wrightilbrary.org